Dental anxiety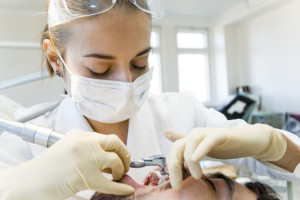 Many people experience anxiety when they have a doctor's appointment. The same could be said for those who have to visit the dentist. No one really looks forward to those appointments. For some, the fear of dentists is so debilitating that they won't go even if there's an emergency.
Even the thought of a routine teeth cleaning can cause anxiety for some people. What patients fear most is pain. Even though they may understand that preventative care can keep more significant incidents of pain away, people just don't make routine dental care a priority.
It has been a challenge for dentists to make sure every patient gets the care they need, in an environment that makes everyone feel as comfortable as possible. Many dentists have worked hard to provide a warm, inviting, environment for their patients.
Dr. Mark Samuels understands this anxiety and offers his patients several sedation dentistry options, so that you can feel comfortable during whatever care and procedures are required to keep your teeth healthy.
What is sedation dentistry?
In the simplest of terms, sedation dentistry is the practice of providing a dental patient with conscious or intravenous sedation prior to any dental procedure. It varies depending on the anxiety level of the patient, the severity of their condition and the length of the planned procedure.
The sedation also facilitates the dentist's job as it will be much easier to complete the treatment once you're calm. As an added advantage, with some types of sedation, you will not remember the procedure.
We have a certified anesthesiologist who can come to [OFFICE] to help you relax through intravenous sedation. IV sedation is also called twilight sedation or sleep dentistry. Sleep dentistry makes it possible to complete multiple procedures in just one visit.
Forms of sedation dentistry at [OFFICE] in [CITY]
There are two may types of sedation: conscious and unconscious. Conscious sedation dentistry can come in the form of an oral sedative or the inhalation of nitrous oxide (laughing gas). Oral sedatives are usually pills that you are asked to take before arriving for your treatment. If you choose this method, you will not be able to drive and will need to have someone take you there and pick you up afterwards.
In the case of nitrous oxide, you are given a mask to wear over your nose. Many patients feel so relaxed, they do fall asleep with this. The effects dissipate quickly and patients are usually safe to drive themselves home. Nitrous oxide is extremely safe with very few side-effects. It's ideal for patients of any age including children.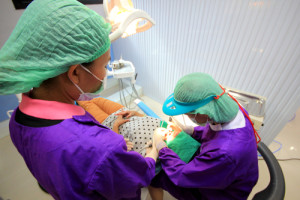 Intravenous (IV) sedation requires the injection of a sedative which will put you into a light sleep. It can be used for wisdom teeth extraction or other multiple extractions, implant placement, root canal treatment, and bone grafting. It can also be used for routine dental procedures when the person has a dental phobia, an extreme gag reflex, dementia, or a medical condition that may require sedation. With IV sedation, you will not remember the procedure. You will need someone to drive you home and to remain with you for the remainder of the day.
In addition to sedation methods, our dentists at [OFFICE] use local anesthetics to numb the area being worked on. Typically, this is novacaine or a similar type of anesthetic. If you've ever had a filling, chances are you had novacaine.
Things to know about sedation dentistry
Prior to any sedation dentistry, you will be asked a few questions about your general medical history. Some forms of sedation may not be a good option for you if you are taking some kinds of prescribed medication that will either not allow the sedatives to work or will have adverse side effects when combined with other medications. Your dentist will need to know if you have allergies or other chronic ailments that may restrict the use of sedatives.
Call Dr. Samuels at [PHONE_LINK] to find out about your dental sedation options at our office in [CITY]. Don't let fear come between you and a healthy smile. Just talk to Dr. Samuels. He can help you get the care you need.